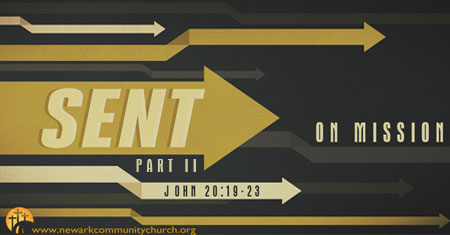 Sent: On Mission Part 2
John 20:19-23
March 10, 2019
GC Purpose: To create community, build relationships, and support one another through the Word of God and prayer.
GC Goal: To build authentic relationships with God & with one another.
Opening: This is a practical sermon—how ready are we to get into action?
___________________________________________________
The Risen Jesus…
As we saw last week the Risen Jesus…
Prepares You For Your Mission (vs. 19-20)
Gives You Your Mission (v. 21)
Provides for Your Mission (vs. 22-23)
Let us bring honor and glory and praise to his Name as we obey His Great Commission. We are saved to be sent on mission. Our mission is commanded 5 times so that it is of supreme importance.
Matthew Emphasizes Authority
"All authority has been given to Me in heaven and on earth." Matt 28:18
Mark Emphasizes Judgment
"And He said to them, "Go into all the world and preach the gospel to all creation. "He who has believed and has been baptized shall be saved; but he who has disbelieved shall be condemned." (16:15-16)
Luke Emphasizes Fulfilled Prophesy
"And He said to them, "Thus it is written, that the Christ would suffer and rise again from the dead the third day, and that repentance for forgiveness of sins would be proclaimed in His name to all the nations, beginning from Jerusalem." Luke 24:46-47
Acts Emphasizes World-wide Evangelism
"… and you shall be My witnesses both in Jerusalem, and in all Judea and Samaria, and even to the remotest part of the earth." Act 1:8. By this Jesus reclaims all nations.
John Links our Commissioning with Christ's Commissioning
"Peace be with you." 20:21
We must have Gospel peace before we can effectively preach the Gospel of peace to others.
"I personally believe that our failure to obey the implications of this command is the greatest weakness of evangelical Christians in the field of evangelism today. We do not identify. We believe so strongly (and rightly) in proclamation, that we tend to proclaim our message from a distance. We sometimes appear like people who shout advice to drowning men from the safety of the seashore. We do not dive in to rescue them. We are afraid of getting wet, and indeed of greater perils than this. But Jesus Christ did not broadcast salvation from the sky. He visited us in great humility. … We cannot give up preaching, for proclamation is of the essence of salvation. Yet true evangelism, evangelism that is modeled on the ministry of Jesus, is not proclamation without identification any more than it is identification without proclamation. Evangelism involves both together." John Stott
Into This World
Jesus' commissioning is a pattern for our living on mission.
"as the Father has sent Me, even so, I am sending you."
John 17:18, "As you sent me into the world, so I have sent them into the world."
The principle of incarnation is the principle of becoming one with those we are sent to help. We likewise must be in the world (but not loving worldly things 1 John 2:15-17)
Rather than invading the world with the proclamation of the Gospel have we retreated from the world? If we retreat we are in effect abandoning the lost to hell–which should horrify us.
3 Ways to Identify with Sinners—we should be involved in the lives of non believers.
Be Okay with Marginal—we may well be disrespected by the world.
Aim to Love, not be Liked—dive into the water to rescue those who may not even know they are drowning.
Put the Gospel to Work—use words to share the Gospel! We must tell them about sin and forgiveness and that Jesus took our place.
Our purpose of being sent is the same purpose as Christ's purpose. "The saying is trustworthy and deserving of full acceptance, that Christ Jesus came into the world to save sinners, of whom I am the foremost."1 Timothy 1:15
Jesus put his focus on sinners "… for I did not come to call the righteous, but sinners." Matt 9:13
For us to go into the world as Christ went into the world, we have to go to the same people Jesus went to. We are therefore Christ's ambassadors, as though God were making His appeal through us. (2 Corinthians 5:18-20)
Why do we resist going to the broken?
"… Christ Jesus came into the world to save sinners, among whom I am foremost of all."
Is it because we don't truly see ourselves as the foremost sinners?
Our Goal is His Glory
Jesus' goal in His commissioning is seen in His High Priestly Prayer:
"I glorified you on earth, having accomplished the work that you gave me to do." John 17:4 Jesus labored to the point of exhaustion (Luke 8) even knowing they would reject him. It is God that saves but we have a part in delivering the Gospel and watching them be saved and grow. We are a bunch of beggars telling beggars how to find Bread. We are a bunch of nobodies telling nobodies how to find Somebody. We are those who can not save themselves telling others Who can save them. Let's never give up on anyone even if we get our heads 'bitten off'!
Because our goal is to be patterned on His… we are to glorify Jesus by our thoughts, words, and actions.
Intentional Mission
Practice sharing the Gospel with non believers and friends
Live a life worthy of the Gospel—anger, lust etc dilute the Gospel.
Engage your mission field—invade annoying coworkers etc!
Reach out with the love of Christ
Ask God to help you in areas you are weak in! Remind us when we feel like failures that Jesus is all! Pray for opportunities to share the Gospel! Join Christ on His Mission!
Application:
Pray as you practice sharing the Gospel with members of your GC. Consider friends and those around who need to hear this.
Tell your GC about your plans to be more engaged with your personal community. Pray for God to open doors for each other.
In what sense is sharing the Gospel being a professional bridge builder?
How do we talk about sin in a decaying world numbed by evil?
Tell your GC other ways in which this section of scripture has impacted you.
Next Steps:
Ask each other to pray about the specific area highlighted in the sermon that needs most attention.
Consider the needs of the NCC. Talk with your GC about opportunities for you to serve. Pray about those opportunities.
Supporting One Another:
Specific Needs. Tell your Gospel Community about your concerns this week.
Tell your GC about needs that others in the group may help with.
Thanksgiving (recognizing how others in the group have helped you and loved you).
John 20:19-23 English Standard Version (ESV)
19 On the evening of that day, the first day of the week, the doors being locked where the disciples were for fear of the Jews, Jesus came and stood among them and said to them, "Peace be with you." 20 When he had said this, he showed them his hands and his side. Then the disciples were glad when they saw the Lord.21 Jesus said to them again, "Peace be with you. As the Father has sent me, even so I am sending you." 22 And when he had said this, he breathed on them and said to them, "Receive the Holy Spirit. 23 If you forgive the sins of any, they are forgiven them; if you withhold forgiveness from any, it is withheld."