Welcome to NCC
At NCC our focus is on the exaltation of our Lord, Jesus Christ. Our aim is to help you deepen your delight in Him which means we are often moving in a different direction from the culture around us.
At NCC you will find…
Expository Preaching –  Our preaching is expositional, meaning we seek to pull out the original meaning of the text and work, verse by verse through books of the Bible as we put the Person and work of Jesus on display. True expository preaching just doesn't unpack information and leave you with stuff to do, it unpacks Jesus and His Gospel.  The focus is on Him and what He has done for us on our behalf and that shapes our identity and empowers us to live in light of that truth.
Fellowship – A loving Christ centered community that is inviting and encouraging.  At NCC we are not a church of families, we are a church family and we have plenty of room for you!
Christ Centered Worship music – When we come together as a church family and sing, our God is the audience and we love to shout His praises.  The music is a mixture of contemporary worship songs blended with tried and true hymns.
Prayer – we are a praying church that seeks to draw near to God in prayer.  We believe in the power of prayer and we pray like we do!
Communion – All Christ-followers are encouraged to take the bread and wine, and use it to remember what Jesus did for us.  We celebrate the Lord's table each Sunday at NCC.
Our History
NCC was established by a small group of believers from the Fremont Evangelical Free Church (now called Bridges Community Church) who were commissioned to plant a new church in the northern Tri-City (Newark/Fremont/Union City) area. They formed the Newark Evangelical Free Church and held their first meeting on Mother's Day Sunday, May 10, 1980 at the Newark Community Center. Pastor Ed Moore was called to be the first pastor of this new church in February of 1981.
1980's:  Our church met at the Newark Community Center for almost ten years.  We called ourselves the "church in a box" then because on Sundays, we unpacked everything from boxes and storage to hold worship services and children's Sunday school, and packed everything back into boxes and storage right after.  Home bible studies were conducted during the week.
1990's:  Our church moved from boxed storage to a leased facility on Dumbarton Court, off of Jarvis Avenue in Newark where we had offices, held worship services, AWANA and other ministries for another decade.  With lease expiration imminent, in 1998 we purchased the Two Count Ice Cream building and property on Sycamore Street to house a permanent church facility.
1999 – present:   After extensive renovation of the new property, we held our first service at the new church facility on Sunday, October 31, 1999. With this move, we also changed our name to Newark Community Church, because some were confused by the word "evangelical." We wanted the community to not be distracted by our name and to come hear the gospel — the good news of what we believe!
2013:  After 32 years serving as NCC's Senior Pastor, Ed Moore retired to spend time with family and enjoy his grandchildren, while continuing to be part of our church family as a beloved church member.  Being granted the title "Pastor Emeritus,"  Ed continues to serve our Tri-City community through CityServe and as Chaplain for the Police and Fire Departments, as well as the Alameda County Sherriff's Office.
2015: Pastor Jeff Roets accepted the call to NCC as Senior Pastor.  Under Pastor Jeff's leadership, NCC enjoyed rich biblical expository preaching, exalting Christ above all else, edifying and exhorting one another through the power of the Holy Spirit and his holy scripture to share this gospel and evangelize the world.
Partnering for the Gospel
NCC is affiliated with the Evangelical Free Church of America, and holds strongly to the meaning of the word "evangelical," which is a transliteration of the Greek word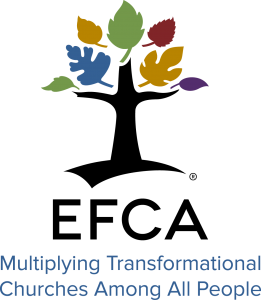 "euangelion," from which we get our English word "Gospel."  We believe, preach, and teach the Good News—the Gospel of Jesus Christ.  Namely, that we are all sinners before Holy God. However, as evidence of God's love, Jesus Christ (God incarnate, in human form) came to offer Himself as the sacrifice for our sins.  He died on the cross, and resurrected, to be our Savior by offering us "salvation," the forgiveness of sins, so that we can be in a right standing with Holy God.  We believe that we are all sinners in need of a Savior; and that, having been "saved," we must grow and mature in our faith, obeying the commandments to love God and love our neighbor.  As a church, we advance the kingdom of God on earth by fulfilling the Great Commission to "go and make disciples of all nations."
Our Pastors