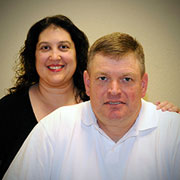 Mark was born and raised in Fremont and has lived in the area his entire life. He came to know Christ as his savior at an early age.
Mark loves his wife and his family. He was married to Kim in 1997. They have been attending NCC since 2001. They are highly involved with their Gospel Community Group, and are growing in Christ together. They are involved in several ministries at NCC.
Mark loves the word of God: reading, memorizing, and meditating on it.
Mark's  life verse is:
Psalm 16:8
I keep my eyes always on the Lord.
With him at my right hand, I will not be shaken.
Mark believes that the key to life is, keeping your eyes on the LORD and Following Christ.
Mark loves sharing his faith with others.  He loves to tell people, "there is a free gift of eternal life available to everyone who accepts Christ as their Savior, and commits their life to following him".