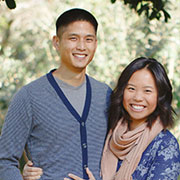 Vincent Wong serves as the associate pastor of Newark Community Church, shepherding the flock of God in service of the Chief Shepherd, Jesus Christ.
Originally from Sacramento, CA, Vincent came to faith in Jesus Christ at a young age. He graduated from CSU Sacramento and subsequently worked in hospital administration. Through Vincent's faithful serving in his local church, the Lord called him into pastoral ministry. In 2011 he moved to LA to begin his training at The Master's Seminary (M.Div. 2014), where he also served as a home Bible study leader at Grace Community Church.
God has prepared Vincent for ministry work by teaching him to love his wife, Selena. They have been married since 2010, and this ongoing lesson is more valuable than any other kind of training he's received.
Vincent is devoted to equipping the saints for the work of ministry (Eph. 4:12) and proclaiming Jesus Christ, warning everyone and teaching everyone with all wisdom, so that he may present everyone mature in Christ (Col. 1:28).
He enjoys reading, hiking, basketball, BBQ chicken, and spending time with Selena.