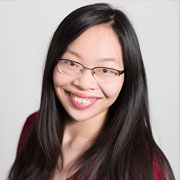 Briana has attended Newark Community Church with her family since she was 6 months old – the only hiatus being her years at Biola University where she graduated with a B.M. in Piano Performance. Starting in 2006, Briana has served on the NCC worship team in various capacities, including keyboardist, pianist, music arranger, and rehearsal director. Upon returning from Biola, Briana became the music director at NCC, while also completing her M.M. in Collaborative Piano from the San Francisco Conservatory.
Briana's prayer for the NCC worship team is that every song will glorify God and declare the truth of the gospel. All creativity and beauty comes from God alone – what a joy it is to give back wholeheartedly to Him in celebration of all that He is and has done! Being surrounded by the voices of the NCC congregation is a beautiful reminder of the unity of the Church and how someday, we will praise God together in His presence for all eternity.
When not serving with the worship team, Briana enjoys rousing movie debates with her family (David, Marie, Brandon, Brittany, and Brooke Ung), teaching piano to hardworking students of all ages, and accompanying for various schools and choirs in the Bay Area. Briana particularly enjoys organizing outreach recitals with her students – feel free to come along sometime!